With the growing concern of data breaches and identity theft, IDX credit monitoring offers a proactive approach to ensure that one's credit information remains secure and untouched by unauthorized users.
IDX's credit monitoring service focuses on safeguarding customers against various types of identity theft, including financial, social security number, medical, and more.
By continuously scanning the dark web for signs of exposed personal data, IDX helps users catch potential threats early on, alerting them to any suspicious activity that may compromise their financial situation. This comprehensive service can provide peace of mind and protection against some of the most prevalent cybercrimes affecting consumers today.
Equipped with a suite of features, IDX credit monitoring not only offers protection against identity theft and data breaches but also includes a VPN, password manager, and tracker blocking. This multi-layered defense system aims to protect one's personal information from multiple attack vectors, significantly reducing the chances of falling victim to cybercriminals.
How IDX Credit Monitoring Works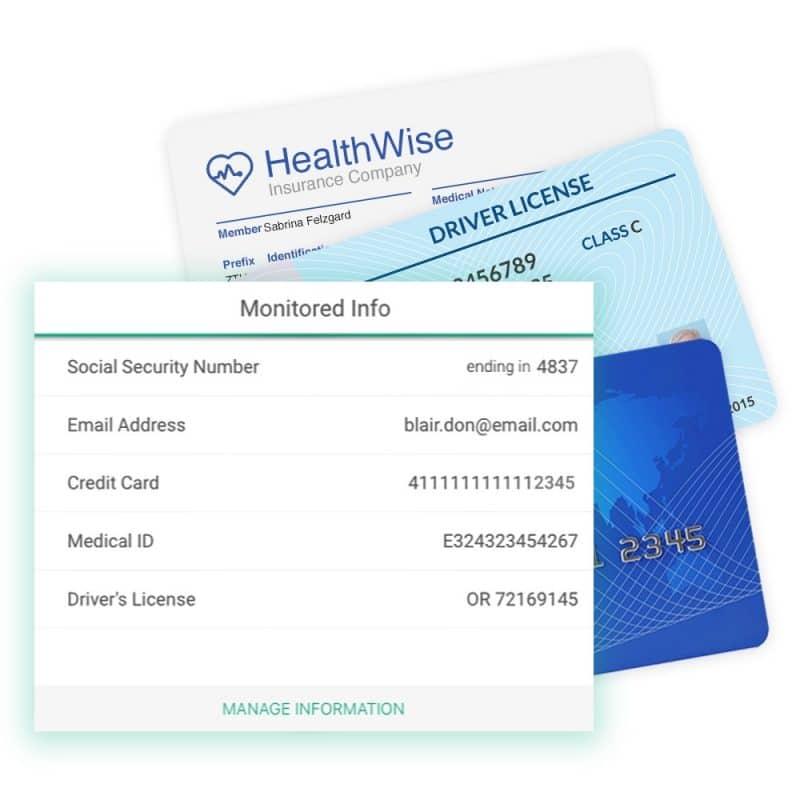 This service monitors a variety of data sources to detect any changes in credit history or personal information, alerting users to potential risks. This section outlines the key components of IDX credit monitoring, including identity verification, continuous credit monitoring, and alerts and notifications.
Identity Verification
At the beginning of the IDX credit monitoring process, users must first verify their identity. This is done by providing personal information such as name, address, date of birth, and Social Security number. IDX uses this information to ensure the correct individual is enrolling in the service, helping to prevent identity theft and unauthorized access to personal data.
Continuous Credit Monitoring
Once the user's identity has been verified, IDX begins continuous credit monitoring. This process involves the regular scanning of various data sources, including credit reports, public records, and online databases to detect any changes or suspicious activity related to the user's personal information. By keeping tabs on this information, IDX is able to identify potential risks and notify users in a timely manner.
Continuous credit monitoring assists in identifying signs of fraudulent activities such as address changes, new account openings, or delinquent accounts that could be indicators of identity theft or fraud.
Alerts and Notifications
In the event that IDX detects any suspicious activity or changes in a user's personal or financial information, alerts and notifications are sent to the user. These alerts can be sent through different channels, such as email or text messages, allowing the user to take immediate action and prevent potential damages or losses.
By providing prompt notifications, IDX credit monitoring empowers users to take control of their personal information and protect themselves against the negative effects of identity theft and fraud.
IDX Features and Benefits
Fraud Resolution Support
IDX credit monitoring offers Fraud Resolution Support to its users. This service provides assistance in resolving identity theft issues by working closely with fraud victims. IDX's team of experts helps guide users through the process of disputing fraudulent activities, gathering necessary documentation, and working with law enforcement and financial institutions to restore their identity.
Credit Score Reporting
Another valuable feature of IDX credit monitoring is Credit Score Reporting. This service allows users to monitor their credit scores from the three major credit bureaus: Equifax, Experian, and TransUnion. Regularly reviewing credit reports is essential for detecting any unauthorized activities or discrepancies in personal information. By providing credit score reporting, IDX enables users to stay on top of their credit health and address any issues swiftly.
Public Records Monitoring
IDX credit monitoring also includes Public Records Monitoring, checking for any changes, unfamiliar activities, or new accounts in the user's public records. This ensures that users are immediately informed of any unauthorized transactions or changes to their personal information. With prompt alerts, IDX's users can respond quickly to any potential identity theft or fraud, thereby minimizing the damage and attenuating financial losses.
IDX Pricing and Subscription Plans
IDX offers multiple subscription plans for their identity theft protection services, catering to individuals and families. The Individual Monthly plan costs $9.95 per month, providing best-in-class identity protection for a single user.
For families, IDX has two options: Family Annual and Family Monthly plans. The Family Annual plan is priced at $17.96 per month, billed annually, making it a more cost-effective choice for long-term protection. The Family Monthly plan costs $19.95 per month and offers the flexibility of monthly billing. Both family plans protect two adults and up to five minor dependents under the age of 18.
In addition to identity protection, IDX services also include credit monitoring and CyberScan, which monitors users' personal, financial, and medical data on the deep and dark web to prevent data breaches.
IDX's plans are comprehensive, providing customers with a wide range of features and tools for safeguarding their personal information and privacy. Their service is not only effective but also affordably priced, making it fitting for individuals and families who want to protect themselves from identity theft and online privacy threats.
Customer Support & Resources
IDX is committed to providing excellent customer support and resources for their credit monitoring services. If users encounter any issues or have questions, they can reach out to the IDX support team. Their knowledgeable professionals are ready to assist with membership questions, login issues, enrollment, and technical support.
One valuable resource offered by IDX is their Knowledge Center. Here, users can access video tutorials and articles that guide them through the enrollment process, setting up credit monitoring, and understanding the more complex aspects of their credit report. This helps ensure that IDX customers can maximize the benefits and protection offered by their credit monitoring services.
For individuals affected by a data breach, IDX provides detailed information on how to enroll in a Data Breach Protection Plan. This plan gives users access to IDX's identity theft protection services, providing them peace of mind in the aftermath of a breach.
Another helpful resource for IDX users is their extensive FAQ section. This section covers a range of topics, such as activating CyberScan, finding member reviews, and dealing with a data breach. This easily accessible information empowers customers to find solutions to common issues and queries quickly.
By offering responsive customer support and a wealth of resources, IDX maintains a professional and reliable service for their users looking to protect themselves and their credit.
How to Get Started with IDX Credit Monitoring
IDX Credit Monitoring is a comprehensive service designed to safeguard your personal information and protect your credit. The process involves setting up an account, entering your personal information, and enabling CyberScan monitoring. This section will guide you through the steps necessary to get started with IDX Credit Monitoring.
Begin by visiting the IDX Services page and clicking on the "Credit and Identity Management" tab at the top of the page. You will be prompted to enter your personal information, such as your name, address, and date of birth, on a series of screens. Make sure to click "NEXT" after each step to move forward in the process.
After adding your personal information, it is time to set up CyberScan monitoring. This feature searches the internet and the dark web for your sensitive data, such as your Social Security number, phone number, email, medical ID number, driver's license, and credit card and bank account numbers. By enabling CyberScan, IDX will be able to detect potential identity theft threats and alert you to take appropriate action.
To further enhance your protection, consider enrolling in a Data Breach Protection Plan. This plan offers additional benefits, such as 24/7 support, identity theft insurance, and assistance in recovering your stolen identity if needed.
By following these steps and utilizing IDX Credit Monitoring, you will take a proactive approach to safeguarding your credit and personal information. Stay informed about your credit report, and take advantage of the security tools provided by the service to keep your identity safe.
Comparing IDX to Other Credit Monitoring Services
IDX offers a comprehensive suite of identity theft protection and credit monitoring solutions that help protect against various types of identity theft, such as child, medical, social security number, criminal, financial, employment, driver's license number, insurance, and synthetic1. Nonetheless, it is essential to analyze how IDX compares to some of its well-known competitors in the market, like LifeLock and Aura, to help potential customers make informed decisions.
IDX, previously known as MyIDCare, underwent a name change in late 20202. LifeLock, on the other hand, has been a long-established industry player3. While LifeLock may have a more prominent reputation, IDX still provides a substantial offering of features backed by a million-dollar guarantee4.
When considering credit monitoring and reporting, IDX and LifeLock both provide services that monitor three primary credit bureaus. Aura, considered one of the best identity theft protection services available in 20235, also offers monitoring across all three bureaus, making it a comparable alternative.
In terms of pricing, IDX's rates may vary based on the level of service chosen. Aura's pricing structure ranges from $9 to $25 per month, depending on the level of protection customers opt for6. LifeLock's plans also come with different price points, offering flexibility when it comes to meeting varying customer needs.
When selecting the best identity theft protection service, customers must carefully consider their unique requirements and assess factors such as pricing, credit bureau monitoring, additional features, and the company's reputation. IDX, LifeLock, and Aura are all solid options in the market that can provide comprehensive coverage to keep personal and financial information secure.
Footnotes
Frequently Asked Questions
How does IDX protect my personal information?
IDX offers a comprehensive suite of identity protection tools to ensure the security of your personal information. These include CyberScan, a feature that continually searches the deep and dark web for potential exposure of your information to cybercriminals, and 24/7 credit monitoring. To further safeguard your data, IDX adheres to strict privacy policies and industry best practices.
What is the cost of IDX's credit monitoring plans?
IDX offers a variety of plans to suit different needs and budgets. To get detailed information about the pricing of their credit monitoring plans, it's best to visit the IDX website directly, as prices and offers may change over time.
Are there any additional features offered by IDX?
In addition to credit monitoring and CyberScan, IDX provides a wide range of features to help protect your identity. Some of these features include (but are not limited to) identity theft insurance, lost wallet assistance, and fraud resolution support. To learn more about the full extent of services offered by IDX, visit their knowledge center for more details.
How do IDX's services compare to LifeLock?
While both IDX and LifeLock offer identity theft protection services, they each have their own unique features and pricing structures. The best way to decide which service is right for you is to compare the specific offerings of each company, taking into account your individual needs, budget, and preferences. Please note that this answer does not endorse or recommend any particular company.
Can I trust IDX with my Social Security number?
IDX takes the security of your personal information very seriously, employing industry-standard encryption and data practices to protect your sensitive data, including your Social Security number. While no service can guarantee absolute security, IDX has earned the trust of many customers by prioritizing user privacy and employing robust security measures.