We now live in a world where your very identity – your name , social security number and your credit – can be taken from you in the blink of an eye. Whether from a data breach online or your mailbox, identity theft now affects 15 million consumers each year. On average, each victim suffers more than $1,000 in fraud, but the stress of having to fight to restore your good name far outweighs the financial losses incurred.  The amount of time and leg work required is hard to describe and it takes a toll on you mentally.
With the number of data breaches up by 40%, consumer personal information is more at risk than ever before.
Criminals can use your information within minutes of obtaining it.
A complete credit monitoring service can help protect your identity and alert you of issues as they happen – not days or months after the incident. There are many credit monitoring services out there, but IdentityIQ is gaining attention in the media for going above and beyond.
What is IdentityIQ?

It's been ranked the best credit monitoring service of 2018, and it's easy to see why. IdentityIQ offers the most complete consumer identity theft protection service out there.
Just take a look at their long list of services:
Dark Web Enhanced Credit Monitoring
IdentityIQ provides daily credit monitoring, so you can keep tabs on any changes that may have been made to your credit report overnight.
With the standard credit monitoring option, you'll receive alerts for:
Personal information changes
Address changes
New public records
Delinquent account reports
New loans and credit accounts
New credit inquiries
Judgments
With the enhanced credit monitoring benefit, you receive more robust alerts for:
Closed trade lines
Changes to authorized card users
A decrease in collection balances
Overdrawn bank cards
New charge-offs
Lost or stolen cards
An increase in collection balances
A 10-point decrease in TransUnion score
A 10-point increase in TransUnion score
Cards that go over the limit
Paid collections and trade lines
Foreclosures
Collections (with the exclusion of medical)
This level of robust credit monitoring can help you tackle identity theft early on – before the thief has a chance to cause serious damage.
Credit Reports and Scores
IdentityIQ allows you to view credit reports from one bureau or all three (Equifax, Experian and TransUnion).
Credit report changes are one of the first indications of identity theft, so it's important to be able to check your report often. IdentityIQ offers up to 12 reports per year on some plans, so you can check your report once a month (or more often) if you want.
Dark Web Monitoring
To access the dark web, thieves use a special browser that allows them to enter the online version of a black market. Thieves can buy and sell anything on the dark web without regulation or restriction – including your personal information.
IdentityIQ offers dark web monitoring, also known as cyber or internet monitoring, that keeps an eye on the dark web for information related to your identity, including your:
Mailing address
Social Security Number (SSN)
Other personal information you designate
The service looks for this information in more than 25 languages to maximize your protection. You'll be alerted immediately if anything suspicious is detected.
Identity Monitoring
IdentityIQ goes beyond the normal identity monitoring service. Thieves can do more than just open a credit card in your name or drain your bank account; they can also commit criminal acts in your name.
IdentityIQ monitors international most-wanted lists as well as national criminal record databases for your information, including arrests and convictions linked to your name and birth date.
The service also looks for any use of your SSN and monitors the National Change of Address registry to ensure that you have a complete look at identity changes.
Identity Theft Insurance
One of the main benefits IdentityIQ offers is identity theft insurance. The company will offer up to $1 million in ID theft insurance for the primary member, which covers:
Legal services
Lost wages
Stolen funds
This benefit, which is underwritten by AIG, comes with a $0 deductible.
Application Monitoring
Thieves can use your information to open new accounts. Most people don't even know about these unauthorized accounts until they pull their credit report.
IdentityIQ says it monitors applications for: utilities, cell phones, payday loans and credit cards.
Identity Restoration
If your identity is stolen while you're an IdentityIQ member, the company says it will personally help you restore your identity.
A U.S.-based case manager will help you create a plan of action and guide you every step of the way.
Family Protection
IdentityIQ's Secure Max Plan also includes protection and monitoring for children. Yes, the identities of children can be stolen, and this often goes unnoticed until the child reaches adulthood.
In addition to $1 million in ID theft insurance, the company provides up to $25,000 for children.
IdentityIQ vs LifeLock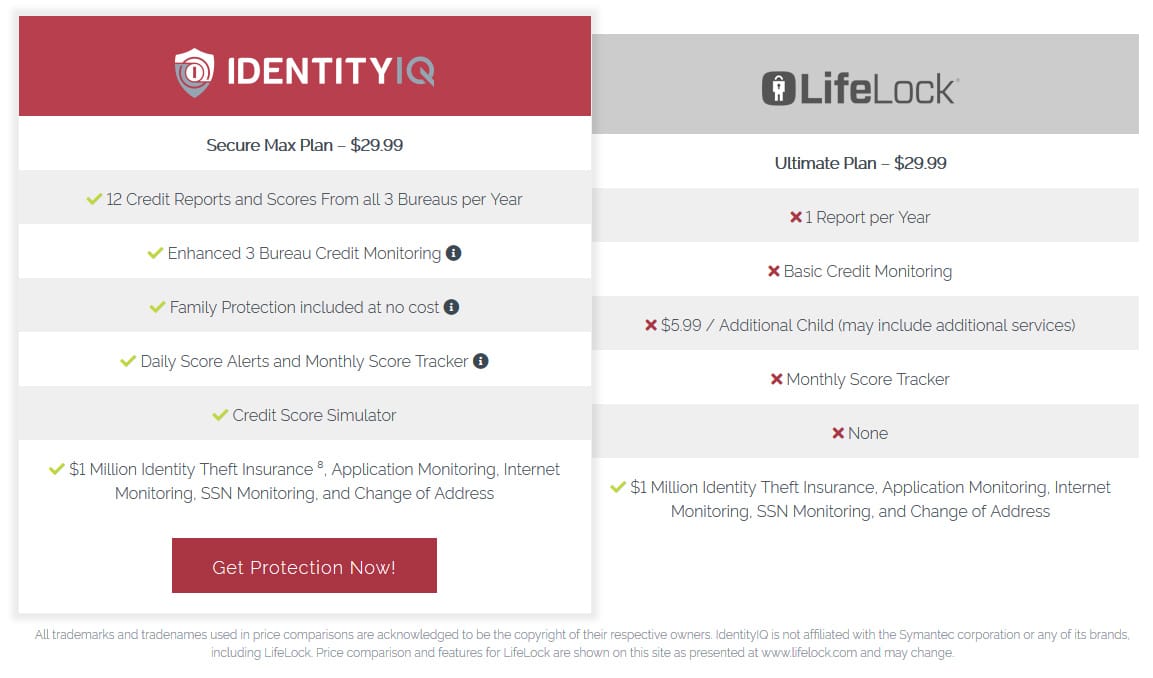 IdentityIQ offers a wide range of services, but how do they compare to LifeLock?
Both offer $1 million in ID theft insurance, but LifeLock is lacking in other areas.
LifeLock only offers:
1 report per year
Basic credit monitoring
They do not offer a monthly score tracker, you have to pay an additional fee to cover children.
By contrast, IdentityIQ's Secure Max plan offers:
12 credit reports and scores from all 3 bureaus each year
Enhanced credit monitoring
Family protection
Credit score simulator
Daily score alerts and monthly score trackers
The Secure Max plan is the most comprehensive, but IdentityIQ also offers other plan options.
The most budget-friendly option is the Secure Plus plan, which offers everything the Secure Max plan offers with the exception of: family protection, alerts on crimes committed with your identity, score change alerts, credit score simulators and trackers, enhanced credit monitoring and fraud restoration. That may seem like a long list of exceptions, but this most basic plan is still highly effective and comes at a price that anyone can afford.
Compared to LifeLock, IdentityIQ offers more robust credit monitoring for the same price. And the company offers more flexible plan options that makes ID monitoring more accessible to consumers.
IdentityIQ Free Trial Offer
Ready to take charge of your identity but don't want to commit to a plan just yet? IdentityIQ offers a free trial that allows you to take the service for a test drive. If you don't like the service, simply cancel before the trial period is up.
Try IdentityIQ today.