Nobody is interested in becoming a victim of identity theft.
You can find yourself in considerable mess, due to the illegal use of your personal information.  There is no easy solution after the fact.  You struggle with where to turn and how to get started.
With the deterioration of the global economy, more and more people are now turning to some kind of criminal activity, and the easiest way to do this is by stealing someone's identity.
In 2015 alone, more than 18 million Americans have become victims of identity theft.
This alarming increase in the number of victims of identity theft is a valid reason for people to seek protection by subscribing to identity theft protection services. Carrying on with our financial dealings on the Internet in slipshod manner can definitely push these figures higher in 2017.
Scammers are out there with card readers, viruses and the like trying to steal your identity – it's terrifying.
Identity Guard aims to protect your identity.
After the amount of hacking in the news after to 2016 election , don't you think it's time to give yourself insurance against identity theft?   This is not an epidemic that will go away any time soon. It's very real, and it's life-changing.
How Identity Guard Can Help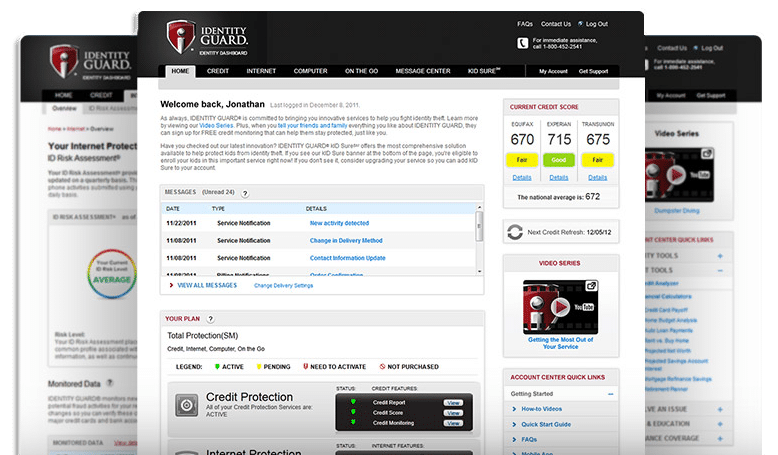 Identity Guard monitors your identity always so that if your name is dinged in a credit check, or someone opens a loan in your name, you'll be the first to know. Lenders won't call you to tell you that you have a new loan or credit card account until the damage is already done.
And what I like most about this program is that a five-prong approach is taken to protect your identity:
Credit Monitoring
You've spent your entire adult life building your credit, and you can ensure that your credit isn't ruined through:
Credit monitoring for new credit cards, mortgages, loans and even cell phone contracts
Monitoring of all 3 credit bureaus
Updated credit score and reports
Prompt notifications (email, phone or text) of changes to your credit file
Internet Monitoring
The Internet has connected humanity to the world, but some people are out there using it for all the wrong reasons. Identity Guard protects you by:
Scanning black markets for your information
Scanning the Internet looking for your bank account, social security or credit card numbers used in unsecure locations
Monitoring public information changes to your identity
Organizing all your public information in one location
Computer Monitoring and Protection
A properly secured computer will lower your risks of having your information stolen dramatically. With your membership, you'll gain vital computer protection:
Free ZoneAlarm Internet Security Suite for the entirety of your enrollment
PrivacyProtect software to encrypt every keystroke you make
On-the-Go Protection
You're on-the-go, and when you're out and about, it's easy for thieves to steal your identity. Even logging into a public Wi-Fi at Starbucks can end with your information being stolen. It's scary.
In 2014, CNN ran an article that half of Americans have been hacked.
Just think about that for a minute. Over 150 million people have been hacked. And a lot of people have their entire life out there on Facebook and Twitter.
From your first Identity Guard login on, you'll be protected through:
Keylogger protection and encryption, so you can access public Wi-Fi safely.
Notification of any credit or public file changes sent to your cell phone.
Lost wallet protection. Identity Guard will cancel all of your credit accounts and provide $2,000 cash to get everything settled.
This is protection everyone needs.
Recovery if the Worst Happens
There's a big risk of getting your identity stolen, and 19 people are the victims of identity theft every minute. You'll pay $500 and spend 30 minutes trying to correct identity theft on average. It's a hassle, and the number of complaints between 2014 and 2016 has increased 47%.
Identity Guard plans will help you recover from potential catastrophe by:
Giving you access to a specialized unit that guides you through the recovery after identity theft.
Providing $1 million in reimbursement if someone steals your identity – the costs to correct your identity.
Granting you access to credit education specialists for
You'll have your identity back, and you'll do so in the fastest way possible.
Identity Guard Helps in Reducing Identity Theft and Fraud Incidents in an Effective Way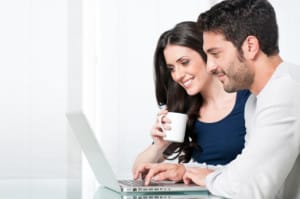 According to an extensive report by Javelin research, people who subscribed to various identity protection services were able to reduce the amount of losses suffered in such frauds. These people were successful in averting bigger losses due to the continuous monitoring facility of their accounts and other software solutions offered by identity protection services.
This is definitely a great relief to all those who are concerned about the safety of their personal information on the Internet.
If any identity thief is successful in gaining access to your bank account numbers, credit card number, or social security number, he or she can use this information to apply for various loans or credit cards in your name. Identity thieves can also apply for high interest payday loans in your name. Though it is possible to straighten out these types of frauds, but stress and money involved can create undue stress in your life, especially when you are trying to make both ends meet in these financially hard times.
In this scenario, Identity Guard offers you total protection against any kind of identity theft. We are discussing below some of its useful features for your benefit.
Daily Monitoring of Credit Bureaus
The biggest benefit of Identity Guard Total Protection is that it monitors three main credit bureaus on daily basis to see if there is any unusual activity on your account. You will get your credit scores from all the three credit rating bureaus Experian, Transunion and Equifax. This helps you in evaluating as to where you actually stand with each of the credit-reporting agency. You may find that you have good credit score with two bureaus and bad with one bureau due to some inaccurate information. Aside from monitoring the credit bureaus, Identity Guard also offers up to one million in identity theft insurance to its customers. You also get unlimited access to your credit scores by subscribing to the services provided by Identity Guard.
Identity Guard Reviews

Identity Guard Offers 3 Affordable Plans To Suit Any Budget

There are three tiers of protection that offer you advanced options and updates:
Essentials: $9.99 per month
Total Protection: $19.99 per month
Platinum: $24.99 per month
That's right, you'll be able to receive a 30-day free trial that no other plan offers. If you've seen the Costco Identity Guard offers, you know they're good, but we're striving for excellence here. You can't get a free trial of Total Protection through Costco or any other offer.
And if you chose to continue with your plan, you'll receive a steep discount, too.
So, what's the difference between Identity Guard Plans?
Essentials
The basic plan will offer:
Social security number monitoring
Black market monitoring
Account takeover alerts
Identity theft assistance
Lost wallet protection
ID verification alerts
$1 million insurance for identity theft
ID vault password protection
Total Protection
The Total Protection plan includes all the features found in the Essential plan, plus:
Address change notification
Monitoring of all 3 credit bureaus
Credit report updates
All 3 credit scores
Quarterly credit score updates
Analyzation of credit scores
Mobile app account access
Keyboard encryption
Antivirus software
Public record monitoring
Platinum
The Platinum plan is one that offers almost identical protection compared to the Total Protection plan, but the one difference is that credit scores are updated monthly. This is a protection that is worth every penny.
I want to offer you something special today.
This is an offer so good that you won't find it anywhere else.
Other Features
Enhanced Identity Theft Features
Aside from the other useful features such as help with lost or stolen purse, Identity Guard Total Protection also offers a superior software program for providing security on your computer. Today everybody uses the Internet on daily basis, and there are several malicious and illegal programs out there on the Internet for stealing your sensitive information right from your own computer, without any trace.
Identity Guard Total Protection offers software for protecting your PC in numerous ways. You get a Zone Alarm firewall as a first line of defense, but you also get various other programs for protection you from spyware and infiltration.
Usually keyloggers secure credit card numbers, social security numbers, names, bank account numbers by stealing them when you are typing them on some website. This also happens on legitimate websites, as keyloggers snap this information when it is traveling between you and the website that you are visiting. The software provided by Identity Guard helps in preventing this from happening by encrypting your keystrokes each time you use your PC.
Another innovative feature offered by Identity Guard is the Mobile Lockbox, which is offered with the subscription. This is the secure place to store all your financial and personal information, and you can retrieve this information not only from your computer, but also from any PDA or cell phone.
Identity Guard is miles ahead of its competitors in offering complete protection of your identity and is backed by a guarantee of $1,000,000 fund for providing expenses for lawyers and investigators in case of any identity theft.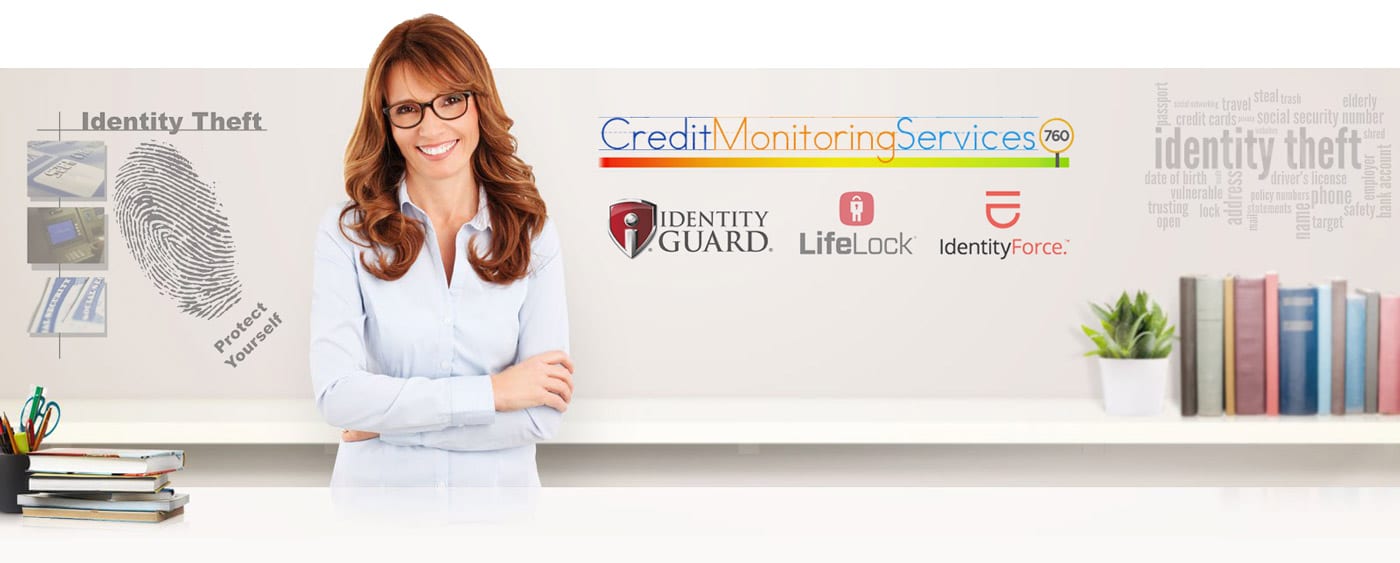 You're smart. You realize there is a growing epidemic of identity theft, and you want to take action. This means you've come across the other programs and services that offer protection against identity theft: Lifelock and Identity Force.
Identity Guard Vs. Lifelock
I'm going to be blunt with you: both companies rock – they're the industry leaders. If you want exceptional service, you can't go wrong with either company. And in terms of price, they're also on par with each other, so there isn't much of a difference at first glance.
But we've found one main difference, and it's one that has a huge impact:
Identity Guard offers quarterly credit report and scores updates. So, you'll receive four updates per year.
Lifelock only offers credit score and report updates once per year.
A year is far too long to not have a credit report or score update. If you wait a year, a lot can happen – and it will be much harder to correct, too.
Identity Guard Vs. Identity Force
Identity Force is a great company, and they've been around for a long time. They offer two plans: $14.95 and $19.95 per month. The features they offer that others don't include:
Sex offender monitoring
Identity health score
Junk mail opt-out
And on the basic plan, you won't receive any credit score updates or reports. The high-end option does offer credit score monitoring from all-three bureaus.
When compared to Identity Guard, you'll find that the product is only comparable at the $19.95 range. You will miss some great features, too, such as black market scanning for any stolen information.
The winner: Identity Guard.
Identity theft is on the rise, and as the world continues to use the Internet for everything from paying bills to ordering products online, you'll need to protect your identity like never before. It's imperative that you act now to ensure that you have the protection in place to safeguard your identity.
What's impressive is that the company behind Identity Guard has been a member of the Better Business Bureau since 1996, and they maintain an A+ rating.
This is as good as it gets folks.
It's time to act now before your identity gets stolen. If you're reading, you're connected to the Internet and your information is at risk.
You can't afford to sit around and keep your identity at risk a second longer.