If you're not already keeping track of your credit score with another free monitoring service then why not give Credit Karma a try.
In fact, considering the huge range of services and tools they offer, why not switch from your current company and give them a try anyway. Did I mention that Credit Karma is totally free?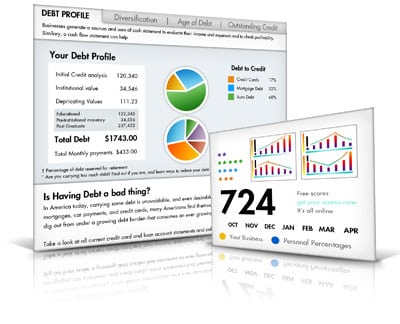 Oh yeah, you get your credit report from them for free, unlike other credit monitoring services that charge you for this freely available information. You do have to provide a bunch of personal information (It's the credit reporting agencies requirements), but you would do that for the paid services anyway.
There's no sneakiness going on either. There's no trial fee, no need to give them a credit card number and no need to pay for the service now or ever. Plus, Credit Karma will let you check your score as much as you like. Other companies let you check once a year for free, which is really a teaser to get you to pay for their service so you can keep tabs on your credit report. With the Credit Karma service you can check as often as you like, although anything more than once a month is overkill since nothing will have changed.
If you are trying to set up your own personal identity theft detection plan then you'll love having access to your credit score for free. While it's not a true FICO score (it is the Transunion score), it is still useful in that anyone who tries to establish credit in your name will most likely be using Transunion to check your score, so you'll see the strange drop in your score.
It's still a good idea to check your FICO score once a year, but having access to monthly updates for free is a quick and easy way to keep track of possible identity theft.
Credit Karma Reviews
Any review about Credit Karma is going to point out that access to your credit report 24 hours a day is one of the most important services they provide.
There are other companies that will give you a certain amount of access, but limit the number of times you can see your report. Credit Karma provides you with the access that you need in the age of identity theft.
This is one of the most important services provided by Credit Karma, is that it is giving you free access to your credit report.
Once you sign up with their service you can look at your credit report any time you like and it will not cost you anything. On top of this, there is a lot of advice and information on how to improve your credit score. This alone is worth money to you personally. An improvement in your credit score can be translated directly into money saved the next time your borrow.
Doing your due diligence now, before you have any credit problems, is the best foundation you can build to ensure a strong credit history. The benefits can be realized further down the road when you apply for your first car loan, mortgage or refinance offer. Surprises that come up during the loan approval process are often unpleasant and shocking. That is why credit monitoring services are so vital for your overall financial wellness.
– There's a credit score simulator you can use to see what effect various things, such as paying off a credit card or taking out a new car loan, will have on your credit score.
– They recently added credit alert monitoring, helping you avoid identity theft even more easily.
– They give you an Auto Insurance Risk score which can be helpful if you're thinking of shopping around for a new auto insurer.
Overall Credit Karma is a great alternative to the credit reporting services that make you pay them to get your own credit score. Having access to your credit score whenever you want is a huge deal, even if it is just one of the three credit bureaus. Plus the other features, such as the credit score simulator and free credit alert monitoring, are helpful and can also give you a better idea of how to manage your credit.
If you're looking for an easy way to monitor your own credit as part of an identity theft screening plan then you simply must try Credit Karma.
A 2015 Credit Karma Review From Consumer Reports Rates Them As The Best Credit Monitoring Service For Consumers
You have many options for credit monitoring out there and that is why these CK reviews can be so useful. They offer the highest rated credit monitoring service according to Consumer Reports for 2015.
Credit Karma creates revenue from advertisers who offer special deals to you as a customer with good credit. Based upon your credit score, there are many companies that have product offerings for you. CK is the conduit for passing these offers along to you. You are under no obligation to accept any offers. They are simply advertisements displayed when you sign on to the website. These ads may be something you are interested in or not. Either way, this is a free service provided to consumers that is paid for through advertisements. There is really no downside to using this valuable online service. Any reviewer should also point out that your personal information is protected at all times and is not seen by other companies.